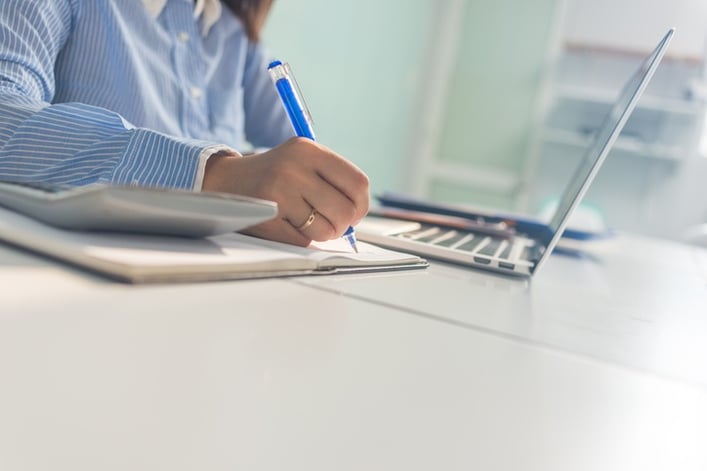 The holiday season is about to get into full swing for most retailers, both online and offline, and it promises to be a busy one. eMarketer is predicting a 3.3% increase in overall holiday retail sales over last year, with a stunning 17.2% gain in online sales. Likewise, the National Retail Federation is expecting a 3.6% boost, just a bit over the yearly average of 3.4% we've seen since the economy began to recover in 2009.
As U.S. businesses spend their time and energy on execution this holiday season, it would pay to follow up with one simple tactic that could save them untold costs in time and money in 2017: Take the time to take notes and plan ahead.
Why Notes Are Important
The holidays are a kind of "stress test" for a merchant's operations. If something is not perfectly optimized—promotions, inventory levels, shipping, customer service—all those ugly little problems will rear their head with the holiday rush. So, if you want to know what works, what doesn't, and what improvements need to be prioritized, there is no greater teacher than the holiday rush.
Unfortunately, too many companies let those lessons go to waste. It's just a fact of human nature that we tend to have too much confidence in our own memories. For example, when things are busy, we are all-too-easily lulled into a sense that we are engaged and "on top of things." In fact, the opposite is true: The more things we have to remember and keep track of, the more new information pushes out the old.
So, the busier you are, the faster you will forget things.
This is why it is so important to take notes. Jotting down your observations and ideas not only keeps a record of them for later, it also helps your memory retain the information longer. Come January, when the flow of work has settled down a bit, you can go back to your notes and better plan for the upcoming year.
Planning Ahead: From Notes to Post-Mortem Analysis
Just what sort of "notes" should you be taking? What needs to go into the subsequent planning stage? To some degree, those are questions that will depend on your particular industry and business model.
That said, you should be ready to do a "post mortem" of your busy season so that you can plan for next year. If you've already taken notes, you should be in a good position to see what worked, what didn't, and what can be improved.
A good post-mortem should, for example, ask the following questions and look to data to find the answers:
Which items moved, and which didn't?

Knowing which items moved quickly can inform you of trends, and may also warn of future bottlenecks. Items with high velocity are also candidates for forward staging—something worth discussing with your warehouse or 3PL partner.

Did items get out on time?

Customers want their items quickly, and with no fuss. Did your operations scale up in order to keep orders flowing quickly? Or were their bottlenecks in picking, packing, and shipping operations?

Was staffing an issue?

When fulfillment is done in-house, you need to account for the spikes in labor demand. If not enough staff was on hand, either due to shortage or due to scheduling issues, it might be time to outsource some functions.

Did orders flow without error from shopping cart to shipping station?

If technology is an issue, it will become apparent as orders (and exceptions) increase. The problem is older systems are used that cannot handle the influx of orders, or that don't

integrate well with other systems

. January is the perfect time to ensure that website and shopping cart functionality is up to standards.

Did you have the right mix of promotions and products?

These should line up with your metrics and goals. Any important changes you made should be analyzed as objectively and as honestly as possible.

Where are you doing well

? What regions of the country are generating the most orders, and what are they ordering? What channels brought the most new shoppers? The most loyal shoppers? Analyzing both order and shipping data here is key.
How did you stack up to competitors?

See how your notes compare to industry averages. What may seem at first to be a good sales season might be lackluster compared to the competition. Likewise, numbers that did not meet expectations might be a result of industry-wide factors, not anything in particular that your company did.

Did the news yield any explanations or surprises?

Even well-run operations can run into problems due to circumstances outside their control. For example, the

Hanjin bankruptcy

and problems with the

Panama Canal expansion

have had noticeable effects on supply chains. If these affect you, it will be most noticeable during the busy season.
When you do that post-mortem, make sure you include all necessary stakeholders. This will likely include IT, marketing, and customer service departments as well as your 3PL partner or distribution center.
And, at the risk of overstating the point: You will miss out on tons of business intelligence if you don't know which reports to pull and which questions to ask. There is a wealth of data in your logistics that can be used to answer business questions, and those answers can provide a huge competitive advantage.
Keep in mind this quote from none other than Abraham Lincoln: "Give me six hours to chop down a tree, and I will spend the first four sharpening the axe." There's some wisdom in those words. Success is at least two-thirds preparation.
Materialogic helps many businesses scale their warehousing, fulfillment, and logistics to accommodate changes throughout the year. If your team is interested in conducting part of their post-mortem with a knowledgeable 3PL partner, contact us.