Finding the right 3PL partner can be challenging with so many potential candidates out there. It can take time to find the right capability, capacity, and competence within the market that matches your business's standards. With so many choices out there, it can be hard to know where to start.

Streamline this process by asking the right questions from the start. Our white paper, 5 Critical Questions Your 3PL Should be Asking You, gives you the top questions your provider should be asking you.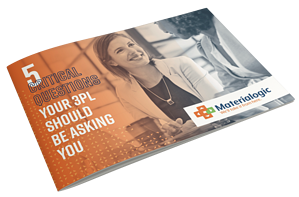 Download the Free Whitepaper
"
Materialogic is a top of the line 3PL partner that has always exceeded our expectations over the past 7 years. Our confidence in Materialogic has been instrumental in our ability to focus on what we do best, R&D, sales and marketing in our business. Materialogic employees are knowledgeable, friendly, and timely; they feel like a part of our company, and have been there for us in good times and bad. I highly recommend Materialogic.
"