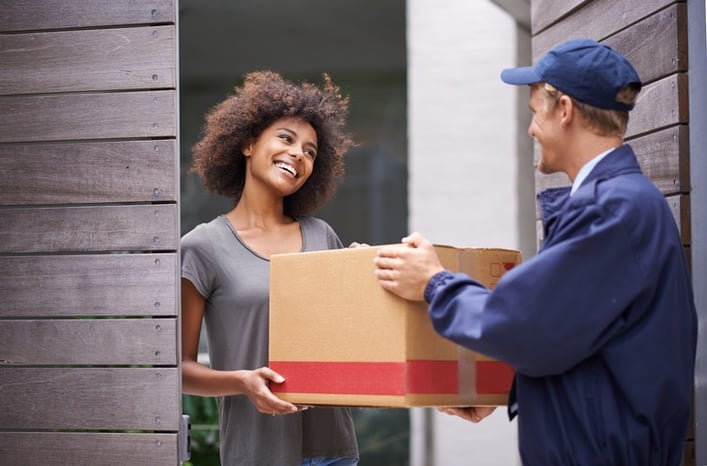 A pattern we've noticed over the past decade is that many retailers worry about the "intake" side of their business. With good reason, of course: No retailer wants to miss the opportunity for a sale. But new channels have to be approached with thought and care.
And so, when online commerce was just starting, people worried about the ease of finding items customers wanted, data security (especially when credit card information was involved), delivery times, and basic trust. As the world moved more omni-channel, people began to worry anew about consistency, inventory level accuracy, payment gateways, and metrics.
In other words, people worried mostly about the customer experience. Importantly, though, there are two ends to customer experience: The sales transaction...and the actual delivery.
We would argue that, these days, the actual delivery is the key place where companies have to deliver on their brand promise.
Customers want to know that, if you made it easy for them to spend their money with you, you are also making it easy for them to receive their purchases. This goes beyond delivery speed, and the science of delivering on a brand promise is more complicated than it appears at first blush. For example:
These days, convenience trumps speed. In survey after survey, customers point to convenience as a main consideration in buying and delivery decisions. For example, will their items be delivered on a day when they are home? Will expensive items be left on a porch? If not, will they be at a collection point? While many of these details depend on the carrier, you can partner with carriers and 3PLs to ensure that information is timely and that packages are handled correctly. Thus:
Communication is key. Will customers get a timely update if an order is backordered or delayed for any reason? And if so, will they have the opportunity to change their order or delivery options? Will customers receive tracking numbers to follow their important packages? Customers like to follow the progress in the shipping process and the know precise day when their orders will arrive. They will even tolerate delays if they know about them well in advance.
Packing is an opportunity for better engagement. Packages need to be packed efficiently, in ways that protect the items therein. But packing is also an opportunity to add value to the customer experience. For example, are items placed in a way that appears neat and organized? Are any messages to the customer placed on top so they are seen as soon as the parcel is opened? Do you include inserts with the package—a coupon, an offer, or a catalogue?
Follow-up is a tried-and-true tool. The customer experience does not stop once the package arrives in a home or office. Use follow-up tools, such as surveys, to ensure that the customer is happy. And don't be shy about asking for online reviews or referrals to friends. A few weeks after delivery, mail out a promotion or offer, using your analytics to find items in which the customer may be interested.
Retailers and carriers alike need to optimize their fulfillment operations so that customer convenience after the sale receives as much attention as the sale itself. This helps build a better brand.
That said, such tools may be hard to implement for some retailers. If you have put off the task, it may be time to find partners with whom to collaborate in order to clear some of those hurdles.
Materialogic has had decades of experience helping retail and eCommerce businesses deliver on their brand promise with logistics and fulfillment solutions. If you want to hear more about solutions like those above, contact us.